Pandemic Opens Opportunity for Cooking Club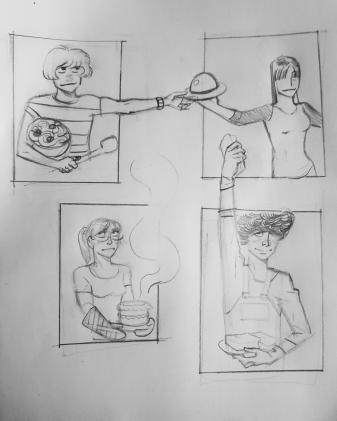 With the pandemic, Millennium Brooklyn High School's extracurriculars went virtual this year, and many students and teachers took the initiative to form new clubs. New this year are a maker club, a book club and even a Dungeons & Dragons club. And to the delight of our aspiring chefs, the Cooking Club, advised by Mrs. Fletcher and student co-facilitator Kaya Chase Kohn, was added to the list. 
The club grew out of a brainstorming session in Mrs. Fletcher's advisory––fittingly called the Fletch Fries. Ms. Fletcher was itching to form a fun and interactive club that would be guided by student suggestions, so she asked her advisees to come up with club ideas. Kaya threw out the idea of a cooking club and Mrs. Fletcher was instantly sold. "We ran with that idea," she recalls. "I think it is really cool because it is a club that wouldn't be necessarily possible in a normal school year because most schools do not have kitchens and the [resources] that would be required for that many students to participate." Since many students are learning remotely, the members can cook and bake from the comfort of their home kitchens while on Zoom. In a normal school year, members would have likely had a harder time scrambling to get home after school or juggling competing responsibilities.  
From chana masala to Rice Krispie treats to creamy vegan pumpkin soup, from meaty bolognese to cinnamon rolls and bread pudding, the Millennium Brooklyn High School Cooking Club makes it all. Every Monday, Mrs. Fletcher meets with Chase Kohn and Maeve Moore, who updates the club Instagram account with posts of student-made dishes from the previous club meeting. She and Chase Kohn then finalize what the club will be cooking for that week and also plan the recipes for the month ahead. Each month has a dedicated theme based on recommendations supplied by students via a survey. Once the theme is decided, members then research related recipes and send in suggestions for Chase Kohn and Mrs. Fletcher to narrow down to the 3-4 dishes they will prepare.  
Past themes have included autumn-inspired foods, holiday foods, comfort foods, and, in March, foods inspired by both Women's History and Pi Day. In merging those two themes, the cooking club cooked different pie recipes written by women. Students had the option of making whoopie pies, raspberry lemon freezer pies or sweet potato pies. 
During the club Zooms, the chefs are presented with different options of what to make and opt into the group dedicated to their preferred dish. Usually there are three to four unique recipes to choose from, in consideration of the preferences and dietary restrictions members may have. A facilitator leads each group through their recipe. In the early months of the club, Mrs. Fletcher and Chase Kohn were the principal facilitators, but as the meetings progressed, other members rotated through these roles. The facilitators explain the recipe at the beginning of the meeting and walk the group through the steps. Once everyone is on the same page and knows what they must do, they begin cooking. Throughout the baking or cooking process, the members like to give each other tips, tricks and reminders to ensure they all finish having produced a delicious dish. Moore, who facilitated whoopie pie-making, reminded her group: "Preheat your oven! I almost forgot to do that." If club participants have any questions or a concern, they ask out loud so others who might have the same question also benefit from the sage of advice of their peers.  
And it's not just students getting in on the fun. Members bring family and friends to join the Zoom in the kitchen. Sometimes the guests cook along with the club, other times they join to sample the finished products or to help with the dishes. "So even if the family is not there cooking or baking with them, [the food] is shared with them afterwards and so I think that is a really special piece for the club," says Mrs. Fletcher. The club brings family into the school community in a delicious and fun way. 
The MBHS cooking club centers on food and food traditions offer an insight into our shared sense of community. Cooking brings people of all different backgrounds together to  share their passion for food culture. The club "is fun because it's [about] delicious [food which] you can eat in real time and be like, 'I made this and share this with other people.' But I also think it is a cool life skill," says Mrs. Fletcher, sharing a lesson that will be useful for Millennium students long after they graduate.