Sports Round-Up: The Spring 2021 Season
After the cancellation of the 2020 Spring and Fall sports seasons, student athletes cheered the return of PSAL athletics this Spring. Here are some round-ups of the Millennium Sports season.
Track and Field Heads to the Races
One year after the disappointing cancellation of its season, Millennium Track & Field has returned for a Spring 2021 season that has been strange but fun! Runners wear masks at all times except when racing, and that presents a big challenge: breathing hard is a part of running fast, and a mask makes that task even more difficult. But Millennium runners have been persevering through Zoom workouts together through the winter, working hard in-person this spring and running their fastest in competitions with runners from around Brooklyn.
Phoenix racers have been led by MBHS runners Tommy Keaney (Class of 2021), Simone Isip and Thomas Fuller ('22), and Nadav Gilad-Muth and Lucas Simpson ('23), all of whom have won races this spring. The team is joined by several promising new rookies, and all Millennium runners are sporting shiny uniforms in this the final season before we become the John Jay Royals. To all those who have helped make the most of this challenging season, bravo!
Softball Roars Back
At the beginning of 2021, the softball team was not convinced that they would even get to have a season. With sports canceled last year, players were skeptical but optimistic. When the season was announced, Coach McCarthy made sure to efficiently utilize every opportunity the team was granted to practice and play.
Since many key starters graduated in 2020, players stepped up to fill their spots. Taylor Smith, the team's new starting pitcher, rose to the challenge, having used her time off last year to learn how to hurl. Smith's pitching prowess, combined with the skillful play of returning leaders and new talent, allowed the team to capitalize on the momentum gained in practice and dominate the field in our games.
The team's record is downright mindblowing, with Millennium outscoring competitors by 12 runs or more in their first three outings (22-6, 32-2 and 31-1, respectively). From turning double plays to hitting home runs, the softball team has continues to play hard and aims to maintain an undefeated record.
Fencing Slices and Dices
The Millennium High School Fencing Team was able to pull off a successful season despite all the challenges of the 2020-21 academic year. While many schools were unable to get a team ready and engage in competition, Millennium was able to assemble a full roster and compete. The fencing team sparred against Beacon High School and Information Technology High School in a series of scrimmages. Team members have put in a lot of work in sharpening their fencing skills and look forward to returning to a normal season in the fall. Coach Nackman and Coach Tan believe that the diligence and dedication the fencing team has shown during this abbreviated season will pay dividends once PSAL returns to its regular competition schedule.
Volleyball Spikes It Up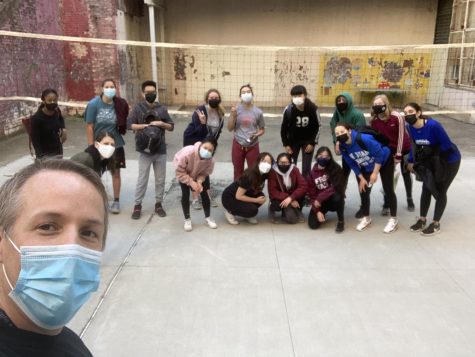 The Millennium girls volleyball team had a season of firsts: its first practice in the MBHS courtyard, its first practice at Prospect Park and its first time playing volleyball in the rain! All of these scenarios required creativity and commitment, which new and returning players demonstrated every week. The team welcomed a strong group of 9th grade athletes and experienced veterans which included seniors Hannah Buccheri, Andrea Ip, and Regina Lu from MHS, and Amber Phillips and Bella Segalla from MBHS. The team's focus this season was to build skills, have fun, and prepare for the upcoming fall season. Students are excited to compete alongside new teammates from the other schools in the building as the John Jay Jaguars. The Spring 2021 season will conclude with a friendly match with the current John Jay Jayhawks, where the teams will mark the joining of the two programs and celebrate the seniors.