Inclusion in Millennium Brooklyn High School Fosters Nurtures Special Needs Students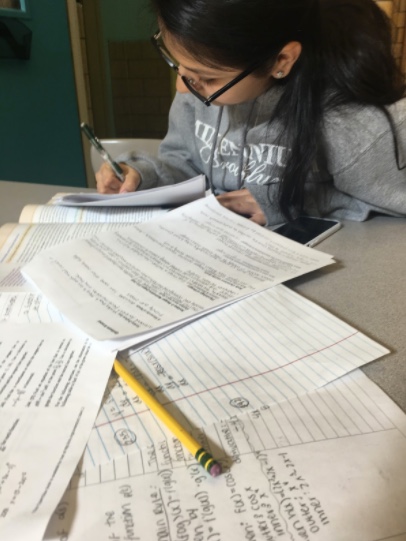 Christian Madrigal, Staff Reporter
May 30, 2017
Filed under Opinion
Hang on for a minute...we're trying to find some more stories you might like.
MBHS is one of the more diverse schools in Brooklyn that offers an all-inclusive environment for students to have a great learning experience.
The all-inclusive environment at MBHS is seen through the integration of special needs students through the ASD NEST Program into traditional classroom settings.
As stated in the Millennium Brooklyn High School Profile, the ASD NEST was made in collaboration with NYU "for higher functioning students with autism spectrum disorders (ASD)." The program is an inclusion program that promotes social interactions with a group of people more representative of the real world. 
Separating special needs students from their peers by placing them in different classes can have negative impacts. Some schools tend to separate kids with special needs into their own classes.  In a TEDx Talk by Hailey Reissman, she states that, in separate classes, students "receive special services in special settings with special caregivers," and the end result is that the students and their families can be "disenfranchised from the community at large." Students with autism can have difficulty maintaining social interactions and communicating with others, so why would cutting them off from the rest of society be of any benefit? It rarely does. By ostracising disabled students into controlled environments we are instilling the idea that they are incapable of thriving on their own, they are taught to be dependent and not independent.
There are cases where special needs students do need full-time guidance during the school day, but that is not the case for all students in this demographic. The ASD NEST program pushes for accommodating students with special needs in regular classroom environments. Colin Ozeki is a senior at MBHS and is a part of the ASD NEST Program, he stated that the ASD NEST program provides "certain accommodations in the classroom to provide students with individualized support they need." These accommodations include having two teachers present in classrooms. He also mentioned that many other schools don't have this atypical classroom setting with two teachers. Colin believes the school is "not just inclusive to those with disabilities but to all kinds of groups," and that it should be considered a role model for other high schools. Millennium Brooklyn High Schools holds ALL students accountable to high expectations so they can thrive in higher academic models.
Not only does an inclusive environment benefit groups like kids with special needs, it benefits the majority. Ms. Gurley, a social worker that specializes in the ASD NEST program highlights the fact that "having diversity benefits because when we are out in the real world you're going to have to know how to interact with different people." Integrating special needs students in regular classes allows for the other students not of any special needs to acknowledge the needs the others. It makes the surrounding pupils realize that there is no difference between them and the disabled students. Integration allows students to see past the barrier of difference set in place by expectations of what it means to be normal.
Millennium Brooklyn High School is truly a role model for other high schools. Ms. Gurley had also mentioned that Denmark wants to start up the program soon. That comes to show how well Millennium Brooklyn welcomes students of all kinds and how many more opportunities can be branched out to those in the special needs community.