MBHS Swim Team Competes In First Ever Playoffs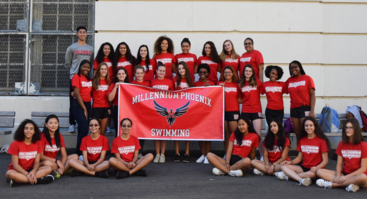 Hang on for a minute...we're trying to find some more stories you might like.
Brooklyn, N.Y- The MBHS Girls Swim Team competed in their first playoffs competition on October 25th, swimming against Curtis High School at Stuyvesant. The meet was extremely close, however Curtis won with a score of 54-44.
Even though the team didn't win, morale was still high after the meet. Team captain and senior Millennium Manhattan student Sofia Lugo thought the competition was extremely exciting overall. "I realized it's my last meet of the season so I just wanted to have fun!" She focuses on the broader achievement of making it to playoffs, instead of dwelling on their loss. "I think it's a great accomplishment, and even though we lost today I'm still really proud of my team and I think we did amazing. I love my team very much and all the girls are so so sweet!"
While the Curtis swim team was exceptional, there is some tension surrounding the degree of their win. A smaller portion of each swim meet is the 1 Meter Dive, involving an acrobatic jump off of a springboard. Many teams skip over the event since their pools don't have this type of board. Millennium currently has no divers, however the Curtis team has one. Because their diver had no opponent, she automatically won the event and earned an extra seven points for her team. MBHS junior swimmer Chloe Gregoire jokingly commented on the setback, saying "next year if we don't have a diver… I'm gonna push someone in the pool if it means we get competition for those seven points!" Without the points from the diving event Millennium would've lost by 3 points instead of 10. The swimmers feel the meet would be fairer without that advantage. "We would've had the clutch, a close W!"
This season, Millennium won 10 out of 11 swim meets, placing second in the Brooklyn division. However the team wasn't always this successful. A quick trip to the PSAL website will show that three years ago, Millennium won only 4 out of 10 meets. The arrival of the current Coach, Alan Zhu, sparked a trend of increasing success. Coach Zhu attributes the team's progress to "a couple new swimmers, training is a little different, [and] a lot more weight room this year. The girls gave it all, I'm very proud of them! I'm very happy!"