Senioritis: The disease that eats away at seniors' joy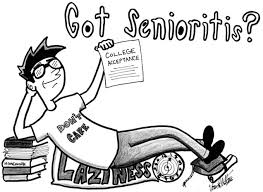 Hang on for a minute...we're trying to find some more stories you might like.
Definition: Senioritis (taken from urban dictionary)
"A crippling disease that strikes high school seniors. Symptoms include: laziness, an over-excessive wearing of track pants, old athletic shirts, sweatpants, athletic shorts, and sweatshirts. Also features a lack of studying, repeated absences, and a generally dismissive attitude. The only known cure is a phenomenon known a graduation."
As the year finally approaches, the seniors are getting their final acceptance to colleges, which is a big relief. But with those calming feelings, laziness swoops in and seniors get "senioritis". Working for over 3 years to get to college and getting acceptances, many students are tired and think they have completed high school already. Now, they're just waiting for the year to end. Some people say that senioritis is not real. However, others do think it exist as they experience it themselves.
In an article from Spartan Newsroom, a news website from Michigan State University, psycholgoists Dr. Stacey Bieke and Dr. Robert Kender state that senioritis may not be a medical condition, but it does affect seniors in high school and college.  For college and high school students, 'senioritis' is a real phenomenon and the kids do go through it. But when it comes to prescribing students medication and putting the term in the medical dictionary, that has just not happened yet," Bieke said.
The seniors at MBHS had opinions about how senioritis affects them and how they feel about it. Fany Silva, a Millennium Brooklyn high school senior, states her thoughts on how senioritis affects her. "I have experienced it and it's hard because I don't want to be in school. I think that when I got my acceptance letter I got really lazy. I feel less responsible for the things I do. I see plenty of people have senioritis. A lot of kids have it more than others. I slack off but I see other kids not pay any attention a all. A lot of kids don't even come to school anymore. Most of the classes are empty."  She does, however, say that she knows she has to keep up her current status and grade average so her college doesn't rescind their acceptance.
 Marilyn Tran, another senior at MBHS says, "the college I am going to is a pretty good University and it is pretty hard keeping up a 90+ average. The AP classes are making me so stressed even though school is almost over. Sometimes I don't really want to come to school. I guess senioritis is getting to me." Colleges can still rescind college acceptances, so beware. They also occur during summer after school so it would be hard to fix the grades.
Based on College Confidential, a website where inquisitive high school or college students can ask questions to different college representative, it is not uncommon for colleges to rescind acceptances. "Colleges do not like to renege on admission decisions but will do so on occasion. This most typically happens when a student's grades drop significantly after the student is admitted." Seniors should still pay attention to their grades if they want to guarantee their spot even if they paid their deposit already. Having colleges rescind your application would be the worst feeling.
The Kansas State Collegian, a daily newspaper website where Kansas State University can publish their articles online has also taken in the issue of senioritis and compared it from a high school perspective and a college perspective. "I think that in high school you get senioritis because you are over high school and want to move on to your next thing," Madeline Frankel, senior in communication studies, said."When you're in college you get senioritis because you don't want college to be over."
So seniors, for the sake of next year, continue to work hard and keep up those averages.