MBHS Students Take AP Exams
Emilia Paluszek, Staff Reporter
May 19, 2017
Filed under Student Life
Hang on for a minute...we're trying to find some more stories you might like.
Millennium Brooklyn High School (MBHS) seniors and juniors took their AP exams from May 1st to 12th. After a year of taking advanced placement classes, they finally got the chance to put their skills to the test in hopes of earning college credit.
There is more than meets the eye when it comes to AP's. It's not just smooth sailing for credit. Giselle Tecante, a senior who took AP classes both this year and last, revealed that,  "AP classes are challenging but are a good thing because you can get ahead in college." She went on to say that she "recommends taking the test because if you're committed there's nothing to lose." When she took the tests this past week, she stated that, "I felt prepared but scared to take them. Now that they're over, though, I feel extremely relieved."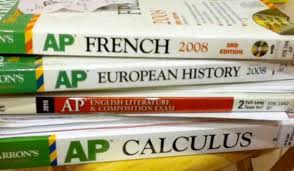 CFNC.org stated that, "if students aren't prepared to do the work required to do well in an advanced class, they should think twice about enrolling in one." It's important that students don't slack off in these classes, as they can get lost in the shuffle. Afterall, according to NYTimes.com, the first exams were created "at the behest of elite preparatory schools, which wanted to convince colleges that their best students could dart right into advanced work."
Ms. Syetta, a 12th grade AP/regular Psychology and Economics teacher revealed that "an AP student should be a student who wants to be pushed and challenged and who is passionate about a specific subject or content area.  They should also be self-motivated and willing to seek out resources if they need help." AP classes are not for everyone.
However, Agness Griggs, a freshman,  hopes to take them in the future as she said, "AP classes are a good idea and that they help prepare you for college classes. They also look good on college applications."