A Less Than Pleasurable Experience: The Problems of the Boys' Bathroom at MBHS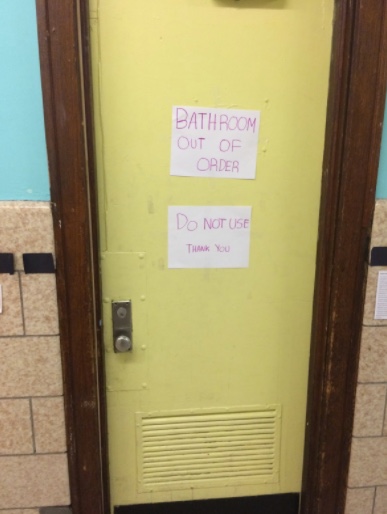 Hang on for a minute...we're trying to find some more stories you might like.
The boys' bathroom in Millennium Brooklyn High School needs to be changed. Here is why:
One problem is that often there is a lack of proper hygiene products such as soap, paper towels, and, most importantly, toilet paper. According to the Centers for Disease Control, proper handwashing can help reduce the incidences of people with diarrhea by approximately 31%.
If bathrooms lack supplies, students cannot properly wash their hands. As a result, they will be more exposed to harmful bacteria, get sick more often, miss school, and possibly miss out on important lessons. Additionally, the bathroom's amenities aren't of top quality, either. The locks don't always work in the stalls, and the sink only has cold water, as the hot water handle broke some time ago.
A senior at MBHS, Colin Ozeki, has even experienced a problem with the bathroom's door knob. He claimed that it "…somehow managed to dislodge itself from the hole it was supposed to be in, making it so that it basically couldn't be opened from the inside." He then had to wait an extra ten minutes until someone came in and allowed him to leave. If students encounter problems such as these, then a change is needed to improve the bathroom's quality and make it more appealing.
A whole renovation is needed to bring the bathroom up to standard. When asked about the issue, Principal Conway claimed that the bathroom in question is, in fact, on "the SCA's (the NYC School Construction Authority) list for a renovation, but things move very slowly."
Conway hopes that the work will occur during the summer, meaning students will have to make do with the current bathroom for the foreseeable future. Next year, a renovated restroom may be available, but it may just be his wishful thinking. So for now, positivity is the key, and students should hope that soon, a better bathroom will come.