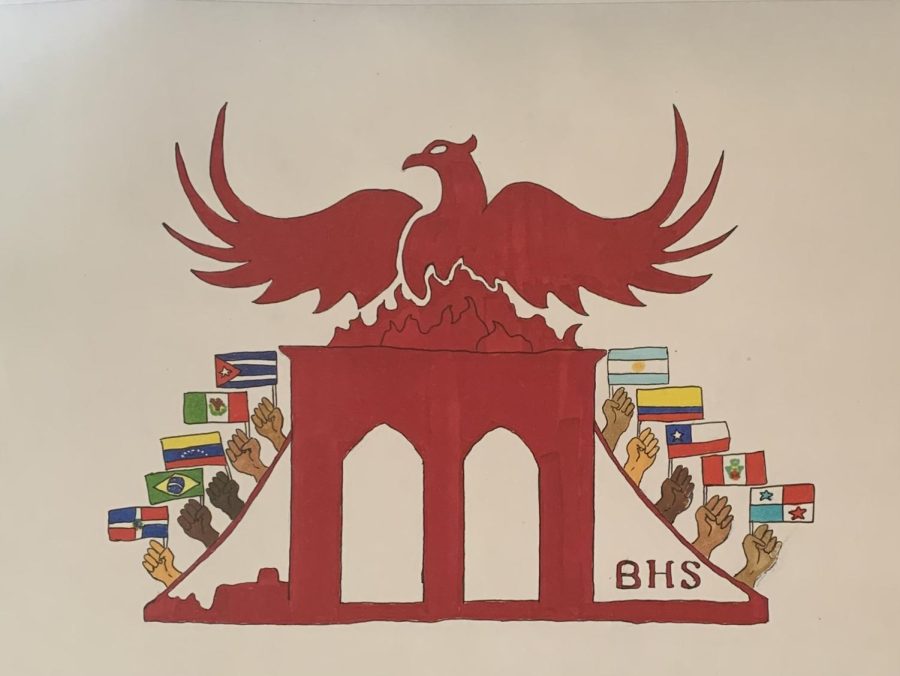 Fayanne Smith-Salzberg
Last year, as groups like the Black Student Union and the Social Justice Club responded to the murder of George Floyd, members of the Latin community at MBHS felt that Millennium needed a group focused on the Latin diaspora and their experiences. In BSU meetings, Kalia Asencio talked with Ms. Gaspard about wanting to form such a club and Ms. Gaspard, in turn, mentioned the idea to Ms. Beato. Samantha Bravo-Huertero had been throwing around the idea of a Latin-focused group with friends and sent an email to Principal Conway requesting permission to found a club. With Mr. Conway's seal of approval, the Latinx Club was founded, rising like a phoenix. This year, the club–now called the Millennium Latino Union (see sidebar for an explanation of the name change)–has grown with the mission of unifying students of the Latin American diaspora while providing them a space to talk about shared experiences and struggles. 
In interviews, club members expressed the sentiment that, at MBHS, a school that is diverse but majority white, it is important to give voice to the experiences of BIPOC communities. In recent years, Millennium students have founded affinity clubs like the Black Students Union and Pan Asian Students Alliance (formerly ASO). These organizations aim to spread awareness of issues affecting their communities.
The MLU welcomes anyone of any ethnicity to join and attend club meetings as long as participants follow the agreed upon rules and respect the club culture. "Anyone that comes here and respects or admires Latinx culture" can join the club, says Bravo-Huertero, a junior at MBHS and a founding member. "I really think that this Union should be open to everyone."
Jaylean Ureña, a member and a senior at MBHS, says that fellow students are welcome to "listen to us, chat with us; we'd love to have new people." She does add that "if you're not gonna respect our culture then you could keep that negativity somewhere else." The club's goal is to spread awareness about the experiences of those who identify as Latiné/Latinx/Latino.
On a recent Friday at 4pm, I observed a typical MLU meeting. (Full disclosure: the author is a member of the club.) As usual, participants were smiling, laughing and providing lots of commentary in the Zoom chat. But the group also engaged in serious conversations where the members of MLU acknowledged important issues within their community. This is standard operating procedure in the MLU; attendees can expect to hear impassioned discussions and diverse opinions. As a new club, its members are developing ideas of what kind of community they will foster. 
Asencio describes club meetings as a "vibe". She says that new members can expect to hear "our thoughts and opinions because we think about things so differently and also in a way similarly. And it's just nice hearing what everybody else has to say and just talking about what's going on in our community and how we feel about certain topics." Erika Chillogallo adds, "[E]xpect inclusivity because we all just organize activities where we all could share our experiences and not exclude anyone."  Ureña observes, "A lot of time where we say things and we agree, we all stay on mute but we all do the same finger point and we all just like 'yasss' but obviously you can't hear it."
Members are quick to share how attending club meetings had made them feel connected and unified as a community. Bravo-Huertero shares that "being [able] to talk about our struggles and our accomplishments and learning about Latinx history, I think that's my favorite part. Learning and connecting [is] a really nice thing to do in a school that's predominantly white." Ureña notes, "I also think it's funny when we make a lot of inside jokes that people who are in the Latino community would understand." 
Members, under the guidance of club advisors Ms. Gaspard and Ms. Beato, create an environment where the students examine the Latin American diaspora through a lens of inclusivity. The group wants to bring attention to the diversity of groups in the Latin community and ensure they are all celebrated. Bravo-Huertero points out that "a lot of people have this idea that we're all from Mexico. And that's just really wrong. We all speak differently, we all have different accents, we all have different cultures, we all have different foods and I think people don't understand that."
In fact, part of the impetus for founding the group was for members to bring attention to the differences within each culture and to offer a space to celebrate this diversity of experience. Ureña shares her frustration about how people assume Hispanic or Latin students are from Mexico or Central America. "It's like people don't realize that even as something as simple as a meal is drastically different from country to country," she says. "Like oxtail may be a dish in Dominican Republic, but it's definitely not as common as it would be in Mexico. Simple things like that and the way we talk. People don't realize that there's differences and that we don't fully understand each other." 
Another goal of the members is to spread awareness on current events affecting the Latino community. Bravo-Huertero notes that she wants to "raise awareness of things that are going on in our countries." The group members feel this advocacy is important in part because it might make teachers aware of their students' backgrounds, which could help instructors design inclusive lesson plans.
The MLU has given its members a space to build personal connections and solidarity with fellow students who have had similar life experiences. When asked how it feels to be a part of the MLU, Chillogallo noted, "I feel connected with people that have similar backgrounds as me. I feel like I can relate with a bunch of people in this after school [setting]." Ureña says, "It's fun to just listen to other people and their experiences. Like last week when we were talking about slang. We all started laughing at the different ways people pronounce [certain words]. It was just a nice moment of unity and it was just really funny." 
The group members share struggles and experiences that help them to navigate the school community. "Our mission and our goal is just to create a safe space for Latino students to come together and talk," Ureña says. "It's nice to talk to people who have similar experiences as you and eat similar foods as you and stuff like that."