Smorgasburg Serves Up Food from Different Cultures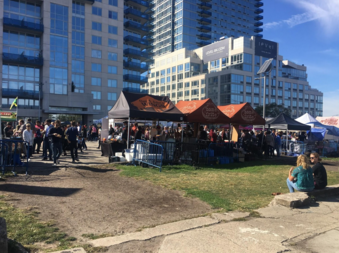 Matylda Naklicka, Staff Reporter
November 29, 2017
Filed under Student Life
Hang on for a minute...we're trying to find some more stories you might like.
Brooklyn, NY- Smorgasburg was founded in 2008 and began as a small group of local New York vendors. Each year it attracts more and more, this year attracting about 100 different local vendors. This event goes from early spring to the middle of fall and is attended by 20,000 to 30,000 people weekly. The festival has different locations all across Brooklyn and is either on Saturday or Sunday. The most popular locations are Saturday in Williamsburg and Sunday in Prospect Park.
In this festival, one can find a large variety of food. The food ranges from sweet and spicy. Barbara Krawczuk, a senior at Bronx Science, said, "they have something to satisfy everyone's craving. You will never leave empty handed." This festival aims to expose people to local restaurants with food from different cultures. At Smorgasburg, vendors sell Vietnamese, Italian, traditional New Orleans cuisine, Hawaiian, a large amount of comfort food, among many other food choices. Magda Golabek, senior at MBHS, said, "this is the perfect place to go and hang out with friends. I found my love for Mexican food here. You should visit it if you ever have some free time. It will entertain you and make your stomach happy."
Smorgasburg came to an end on Saturday, October 29, 2017, but it will reopen in the springtime. Krawczuk says, "everything good must come to an end, and I can't wait till spring so I can go again." For the holiday season, Smorgarsburg has opened Smorg Square which will be open through the holiday season.  
Smorg Square is located on 76 Varick St. (at Canal St.) Soho, Manhattan. It will be open on Fridays and Saturdays from 11am- 10pm, and Sundays from 11am-8pm. This will be the first Smorgasburg location in Manhattan. Time Out New York says, "Manhattanites can plant themselves on one of the dozens of picnic tables under piazza-style lighting while munching on meals from more than 20 vendors, including Smorgasburg favorites Ramen Burger and Destination Dumplings, and newbies like Dan and John's Wings and Rai Rai Ken." Additionally, they created an indoor supermarket which is just across the street.
Krawczuk said, "this sounds like a very fun place. I'm glad they are continuing this event. I will make sure I go and check it out."