Bomb Threat on John Jay Campus Causes Evacuation
Hang on for a minute...we're trying to find some more stories you might like.
On March 2nd, 2017 slightly before 12:20 p.m., a student within the John Jay Campus who attends Millennium Brooklyn High School (MBHS) received a phone call stating that there was a bomb in the building.
Police were immediately alerted and rushed into the building as the entire building – students and faculty from MBHS, Park Slope Collegiate, the Secondary School of Law, and the Secondary School of Journalism – was forced to evacuate. For several students, this experience was somewhat traumatizing, whereas most were able to remain calm throughout the entire incident.
The Department of Education has a specific code of conduct and district-wide safety plan for situations such as this one. The plan mentions, "State Law requires that the New York City Department of Education develop a District-Wide Safety Plan that includes a comprehensive city-wide plan to address emergency management and crisis intervention and a Code of Conduct, which includes a discipline code." Therefore, during this bomb threat, John Jay Campus was well prepared to handle the situation.
When questioned on the matter, principal Kevin Conway of MBHS stated, "My initial reaction was to follow the procedures established by the Department of Education to ensure student and faculty safety. Once I heard that a threat had been made, I notified the authorities and informed the administrative team to make sure we were ready if we had to evacuate. My focus was on ensuring faculty and students remained calm, stayed together, and successfully evacuated to P.S 321, so I wasn't really thinking about my emotions during the evacuation."
With the impressive cooperation of students and faculty members, each person was able to reach P.S 321 in a quick yet orderly fashion. Meanwhile NYPD officers and members of the bomb squad swept the building.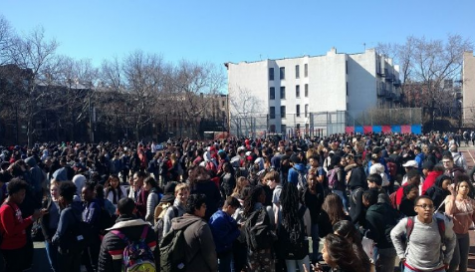 Emily Santiago, a senior at MBHS, stated, "I started crying because I have really bad anxiety and so I just couldn't even deal. It is just scary."
Bomb threats are serious and should never be taken lightly as they are becoming more and more common. Educator's School Safety Network stated, "The 2015-2016 school year has seen an unprecedented increase in school-related bomb threat incidents both in the United States and throughout the world." Students whom were shaken up over the situation were given support and reassurance from friends and faculty members that everything would be alright and to just remain calm until it was all over. Other students reacted in an untroubled manner which set off a good impression for those who were scared during this event. Another senior from MBHS, who wished to remain anonymous stated, "Some people were freaking out and I didn't understand why. Nothing was happening I was calm and relaxed the entire time."
Ultimately, no device was found. The incident was marked as a false alarm by 1:00 p.m. and students were able to return to class. Currently, police are still investigating the matter just to be cautious, but no other information has been provided. Parents were also informed after the situation took place to explain what happened and that class is in session and students have nothing to worry about from here on out. Moving forward from the situation, Mr. Conway stated, "For the student's sake, my goal is to return to a sense of normalcy – going to class, learning, participating in extracurricular activities, etc.  In addition, the faculty will reflect on the experience and identify areas we can improve upon if we ever need to conduct another evacuation."